This film is considered one of the earliest and most influential of the giallos. It was also a highly influential film for the slasher flicks of the '80s and inspired film makers such as; Dario Argento and Quentin Tarantino. It's a 1964 Italian thriller directed by Italian film pioneer and master Mario Bava.
The world of fashion and glamour is not safe with a killer on the loose. Models drop dead one by one in gruesome, and often horrific manners. A classic who-dunit with beautiful women, fashion, and flesh.
The colored-gels and predatory camera in use was a step in a different direction of many who-dunit films during the time. Many films have emulated the camera movements since then; so it might not be as noticeable to someone that has watched numerous films inspired by 'Blood and Black Lace'. But it's a treat to watch one of the originators of the slasher films, and the inspiration to one of my favorite horror film directors, Dario Argento.
I grew up watching Hammer House of Horrors during the '80s. So I have a fondness for that certain feel of low-budget/quality horror films that have the right mix of antique props, and films based on more Gothic, Supernatural, or Mythological stories.
In Greek Mythology, Cronus is the leader of the Titans. Chronus is also a personification of time. In one tradition Cronus' rule was seen as a golden age for mortals. But, most of the stories tie in Cronus as being associated with a sickle and the time for harvesting. He is also identified with human sacrifices, specifically children, since he ate his children based on a rumor one of them would overthrow him one day.
In the movie 'Cronos', Cronos is a scarab looking device that was developed in 1535 by an alchemist where the device could give eternal life. 450 years later an elderly man finds the device in one of his antique statues he deals. The device has an appearance of being wound like a time piece. As the elderly man winds the device in his hand; 6 legs appear that dig themselves into his hand. One main leg on the device pierces his skin like a syringe, and injects a solution into him. Inside the device are the inner workings of a clock, and an insect that feeds off the human blood. As the movie progresses a symbiotic relationship develops between the elderly man and device.
The elderly man is Jesús Gris and played by Fredricco Luppi. Jesus and his granddaughter, of few words, seem to have a bond that transcends time in itself. Aurora is a quiet life force for Jesus, and this device becomes a threat for her life since Jesus starts to get the urge to drink her blood. Eventually, a rich elderly man dying named Dieter de la Guardia comes looking for the device. His nephew is an assistant (and hopeful future heir) played by one of my favorite actors Ron Perlman. His assistant Angel is disgruntled, but rather subservient to Dieter. And Dieter has the only surviving manual to the Cronos device on how to properly maintain the device. Jesus doesn't seem to care about the manual, or living forever. He wants the new changes in his life to reverse, and place an end to this curse he has been placed under.
The beginning of the movie made me doubt the high reviews it had received thus far. But, as it progressed I became interested in the intelligent and refreshingly different viewpoint on vampire folklore, and the fleeting time the golden years brings. The future formula for Guillermo del Toro's films is definitely noticeable in this film. And this being his first feature film, is rather impressive. Guillermo has the ability to integrate a child like fantasy world of the macabre and innocence into his horror films, where the label of horror seems almost too harsh, and dark fantasy seems more fitting. But, the scene of Jesus ripping off his face did bring flashbacks of the movie Poltergeist to mind, which is rather horrific. And Jesus character is such a kind elderly gentleman, that he can make you feel sympathy for him as he licks blood off a public bathroom floor to feed his thirst for blood left behind by a stranger with a nose bleed.
The close-up scenes of the inner workings of the device, and the insect inside, are very well done in the visual telling of this mythical device. And the bond between Jesus and his granddaughter of Aurora is sweet. It's not a high budget movie, but has a lot of detail that even Hollywood type films will leave out at times. So, even if you're not a vampire flick fan, but a fan of dark fantasies at least, I recommend this film.
'Four Flies on Grey Velvet'  (4 mosche di velluto grigio) is the third installment in Argento's animal trilogy (preceding is 'The Bird with the Crystal Plumage' and 'Cat O'Nine Tails'). This film is a 1972 Italian mystery thriller also known as a Giallo. Giallo is Italian for "yellow" which refers to the yellow trademark paperback covers of mystery novels. Many of the films that emerged from these novels were referred to as 'gialli'. Gialli films are characterized by extended murder sequences featuring excessive bloodletting, stylish camerawork and unusual musical arrangements.
The musical arrangement was composed by Ennio Morricone that is mostly known for his scores in Sergio Leone's "Spaghetti Westerns". Due to a falling out between Argento and Morricone the duo did not work again together until 1996. The progressive rock band "Goblin" then took over on composing musical arrangements for Argento's films.
As for the film itself, it's a well orchestrated "who-dunit" mystery thriller that keeps you guessing until the end who the murderer is, and to why the act was commited. But, as with many early thrillers, especially of Argento, I always find a mellow-dramatic absurdity to them. And the ending of this movie is no exception.
It's a movie lesson in 'Gialli' films of the 1970s, but not on my "must watch" list for Argento films. But, it is a must watch if you are an Argento fan and want to watch a variation of film styles from his career. And a good example of "Gialli" with a score by one of my favorite composers.
The movie 'Chopper' stars Eric Bana, and I would have never guessed it was him without seeing the credits. Of course, I only say that because I was rather repulsed by Chopper, and Mr. Bana is usually easy on the eyes. But I guess I can owe that to Eric Bana's performance, which, is the best part of the movie.
Well, anyways, it's directed by Andrew Dominik and based on a semi-autobiography of Mark "Chopper" Read. On reading about the real Chopper I'd have to say the movie left out a lot of interesting facts on this guy. Even Read himself says the movie contradicts his life. Which, of course being Read, you're never sure if it's a truth, half-truth or no truth.
If you don't know about the real Chopper; then you may want to read up on him. As for the movie, it skims the surface of how fascinating and frightening of a man Read really is. But still instills in you a sense of awe how a man can be insane enough to cut part of his own ears off, kill dozens of people, have very little remorse, and still write books that made him a celebrity across Australia and beyond.
The movie has quite a few memorable moments and a bit of a laugh at times. It can also be just as unforgiven and brutal as Chopper himself, depending on how sensitive you are to violence.
'Mother' is directed by a South Korean director Bong Joon-Ho. One of my favorite films was directed by him, The Host, so I had to check out one of his latest (it's on instant watch Netflix).
We all have a mother, and some of us have very fond memories of our mother. And then there are some of us with memories we'd like to erase. This 'Mother' is the story about an overprotective single mom that dotes on her son a little too much. She constantly keeps an eye on him, and feels the need to coddle him to no end. The mother is played by Kim Hye-ja and gives an amazing performance. She has the ability to play the ultimate mother monster, but makes you feel sorry for her because, well, she just loves her son too much. The son Do joon, played by Won bin, is on the feeble minded and forgetful side of humanity. And through a string of events he gets himself involved in a murder case with one of the young local town girls. After she is found dead on top of a building for the entire town to see with evidence that points to Do joon; he is promptly thrown in jail with a guilty case closed charge. His mother then sets off to prove his innocence, and get her son back immediately. And no one in the town is safe until her son is back by her side, literally.
The movie is a dramatic thriller with an ever so dark comic touch that Bong Joon-Ho has become known for. As the movie progresses and the truth starts to surface; the movie becomes more unrelenting in the amount of blood and pain the characters suffer. The movie has the right amount of mystery being peeled like an onion to keep you guessing until the end. And that little twist on memories and family that may make you wants to call your mother, or stop to wonder what secrets she is hiding from you.
It's a definite watch for Korean film fans. But many reviews I've read had the viewer finding the movie more intense than humorous. It may take an ever so dark sense of humor, and the stomach for violence to give this movie its due praise. But even I fit that category and still can't say it was the best thriller I've seen in some time. It seemed a little formulaic during some scenes, but still inventive enough to get my vote on a definite watch. And who knows, it may just make you miss those psychotic episodes your mother had and only remember them as being endearing.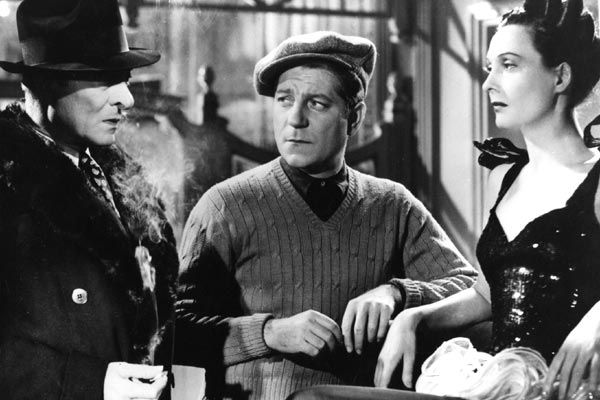 'Le Jour Se Leve' (Daybreak) is a movie about a man, a girl, and a murder. A classic melodrama directed by Marcel Carné during 1939 in France. Jean Gabin plays François, an austere man that falls in love with Françoise, and finds himself entangled in a covetous love affair that includes a magician named Valentin and his assistant Clara. The movie plays back the events leading to François crime of passion.
'Le Jour Se Leve' is a principle movie in the poetic realism movement of the '30s. And was remade at one point in the U.S. with Henry Fonda by the name of 'The Long Night'.
"In France in the Thirties another film movement also developed, a period which came to be known as French Poetic Realism. This movement contains parallels to the American noirs, sharing the sentiment and milieu of their later American counterparts. The pessimism and despair of the urban lower classes is expressed with romance and melancholy. Jean Gabin, remembered by many as the French Bogart, was the foremost presence seen in these films, and directors Marcel Carne, Julien Duvivier and Jean Renoir were among those primarily involved in creating these works. " ~ Roots of Film Noir Prints

After reading this Interview article on 'Broken Embraces' and Almodóvar; I decided that it was time to watch this film.
"His latest film, Broken Embraces (Los Abrazos Rotos), is a prime example: a painstakingly constructed work that simultaneously functions as a tribute to noir, cinema, the professions of writing and directing, the art of having grand passions, and of course, his frequent star (and our cover subject) Penélope Cruz. " (from above 'Interview').
I let this film linger around in my 'to-see' list of movies since its DVD release. Normally, I would jump at a new Pedro Almodóvar film, but I wasn't happy with his last two films 'Bad Education' and 'Volver'. I say this with in mind that I've seen ten of his films, and I'm an avid fan of his work. He is one of the modern auteurs of cinema. But I was left with a sense of apathy on this one. I can't pinpoint one exact reason other than it being a very complex interweaving of various tales; with only a couple of them making any depth in the film. There were many "acts of grand passions" in the film as the quote above mentions, but not any passions that stirred the emotions within me. I found myself disinterested in the lives of the characters and indifferent to their tragedies. I enjoyed his short 'La Concejala Antropofaga', included on the extras, of the DVD much more. 'Broken Embraces' seemed to be more a reflection on his career than a journey into new territory for him. I'd really like to have seen the film from the perspective of someone unfamiliar with his work, but unfortunately, I'm not. And from what it seems; you have to be very familiar with his movies in order to catch all the references to his earlier films. So I will continue to search for his earlier films to watch, and hold off on watching any more of his current works as they surface.